An ideal nursery playground is one that best suits the needs of the young children that use it and, as every nursery is unique, there is no one-size-fits-all solution. Indeed, as older children move on and younger ones join, those needs may change over time. To help you find a solution which works for you, here we'll look at the basic elements of a nursery playground and show you what it is possible to achieve.
Think design rather than random organic growth
Even if you already have some equipment installed, it's always a good idea to go back to the drawing board before buying anything new. If you buy something and put it somewhere just because that's where there is a space, you might not be creating the most useful playground for your children.
Rather than letting your playground grow organically, rather like the random nature of many British town centres, a much better solution is to design the layout of your playground, just as you do your indoor space.
Through design, you'll be able to create different zones for different purposes, enabling you to cater for a wider range of children's needs while letting you better organise and manage outdoor activities. As a result, your nursery will be safer, as hazardous activities can be kept apart; and children can be more independent, as you'll need to intervene less often.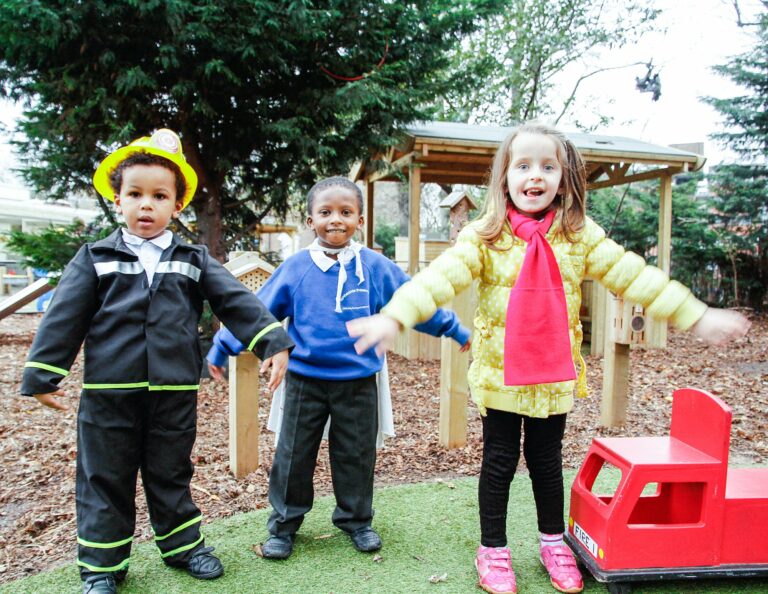 Once you have decided to create zones, you then need to think about the types of zones you might want and the equipment you put into them. Your choice here will be influenced by the interests and needs of your children and the need to deliver the EYFS curriculum. There is, however, no prescribed rule as to what you should include, so long as your nursery space and equipment is safe for children.
Nursery children can be full of energy and need an outdoor space where they can run around and be active. Not only is this great fun for them, it's also healthy and encourages them to play together, form friendships and develop social and physical skills.
As children can quickly get fed up of just running around, it is a good idea to provide them with something more challenging and fun to play on but which still helps them stay active. Popular solutions include play towers with built-in slides, climbing nets, ropes and bridges, and low-height, Trim Trail obstacle course equipment that is specially designed for smaller children. Your active play area can also include playground markings, such as sports pitch markings or even a roadway with traffic lights, roundabouts and zebra crossings.
Whether putting paint on paper, role playing or making sounds, nursery aged children have boundless imaginations and love being creative. While you may do some of these activities indoors, creating an outdoor zone where children can explore their imaginations more freely is a great way to develop their creative skills.
Nurseries have lots of options available to them when considering which creative playground equipment to purchase. There are plenty of easy to clean mark making tables and uprights that can be used for painting, drawing and chalking; there are a wide selection of built-in percussion instruments, like musical chimes, drainpipe drums and xylophones; and there are lots of pieces that can inspire the most inventive role plays, such as body-warping mirrors, log bridges and tunnels, play huts, shop kiosks, theatre façades, wigwams and wooden trains.
While messy play involving sand and water is the absolute bee's knees for kids, it can be a very impractical activity to do indoors, creating slip hazards on the floors and requiring someone to deal with all the mess. Moving it outside into its own discrete zone, however, solves a lot of problems.
From a learning perspective, the great fun to be had playing with sand and water teaches children the different properties of these tactile materials, letting them explore how they feel and move and how they can be combined and made into sand castles, sculptures and mud pies. Indeed, water and sand play equipment, such as mud kitchens, splash pools and sand boxes provide the ideal sensory play area for nursery aged children.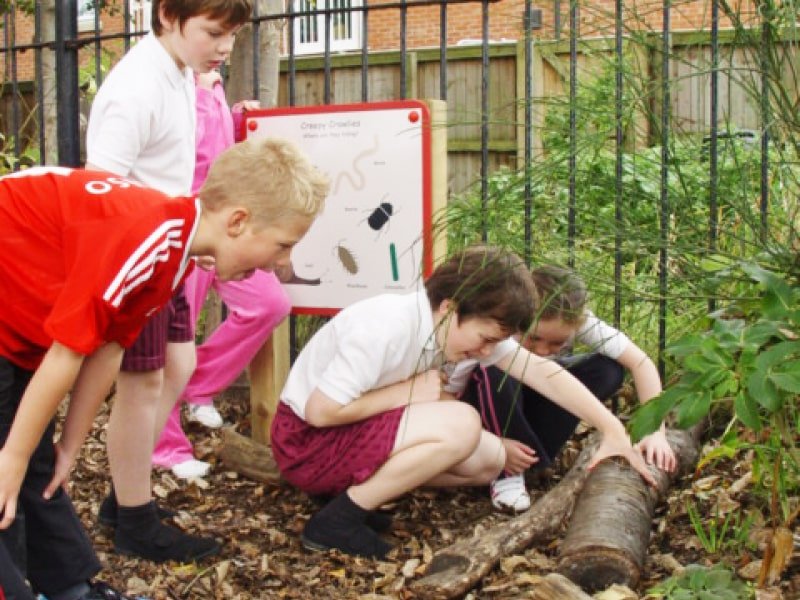 Nothing gives a sense of calm more than being outside and surrounded by nature. Creating a quiet space not only helps children to feel relaxed and reflective, it also provides somewhere they can get up close to the natural world.
For nurseries that lack an on-site green space, it is possible to create them using planters and trellises. Trellises planted with climbers can be used to create green walls that separate the space from the rest of the busy playground and help keep it somewhere special. Planters can then be used to add colourful plants or even to grow food. You can replace the asphalt surface with artificial grass, if needed, or simply add a few benches or outdoor seats so children can be read to on warmer days.
To attract nature, simply install somewhere for insects to live, such as a butterfly box, insect habitat or ladybird towers. You can add a bird table, too. There's an interesting selection of nature equipment you can choose from for your nursery garden.
Getting the right equipment for your playground and putting it in the most appropriate places can transform your nursery, making a far more enjoyable outdoor space that can be used for a wider range of learning activities. For more information about our range of nursery equipment, visit our Early Years page.