Free play is a fundamental part of child development, enabling children to learn a range of important skills whilst broadening their understanding of the world in which they live.
For schools and EYFS providers, one of your key tasks is to equip your playground with resources that give pupils all the motivation and opportunity they need to indulge themselves in free play.
In this post, we'll look at the best way to go this for your outdoor environment.
Designing your outdoor free play environment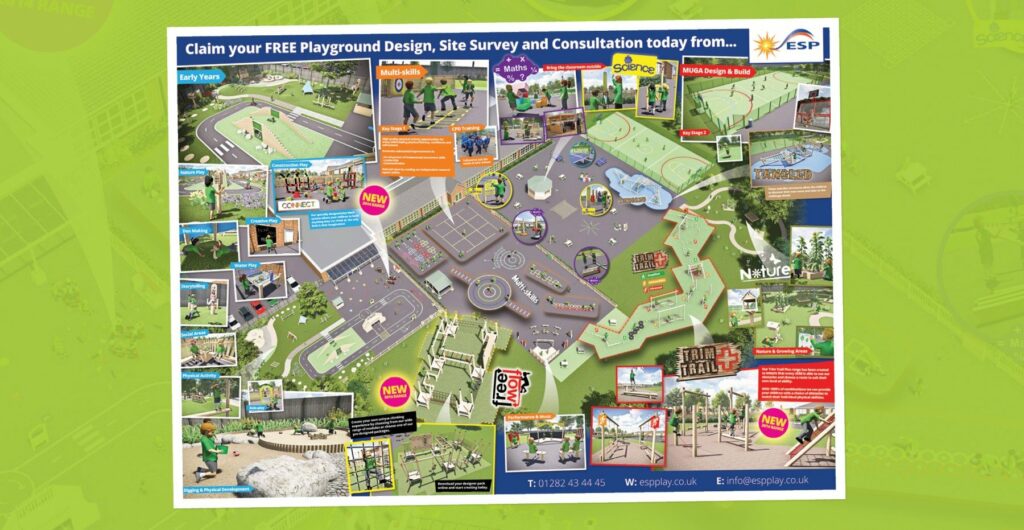 When creating your free play area, there are a number of things to consider: it's got to be safe, it has to give children a range of stimulating activities, and it needs to offer opportunities for developing social, thinking, creative and physical skills. The best way to achieve this is to design your playground so that it is made up of different zones.
Establishing zones enables you to have control over what activities take place in different areas of your outdoor space. This is great for making things safe and for establishing microenvironments that can function well without being impinged upon by what happens in the near vicinity. For example, you don't want children coming down a slide to be hit by a ball, or a noisy activity disrupting something which requires quiet concentration.
Another added benefit of creating zones in this way is that they require less adult intervention. When you place your zones in the right places, free play can go on, uninterrupted, without teachers or staff members continually having to warn children about potential safety hazards.
It is possible to create a wide variety of different zones. Whilst available space and budget will influence what you choose, the biggest factor will be the age, interests and needs of the children you teach. Here are some examples of different zones you may want to consider.
1. Physical activity zones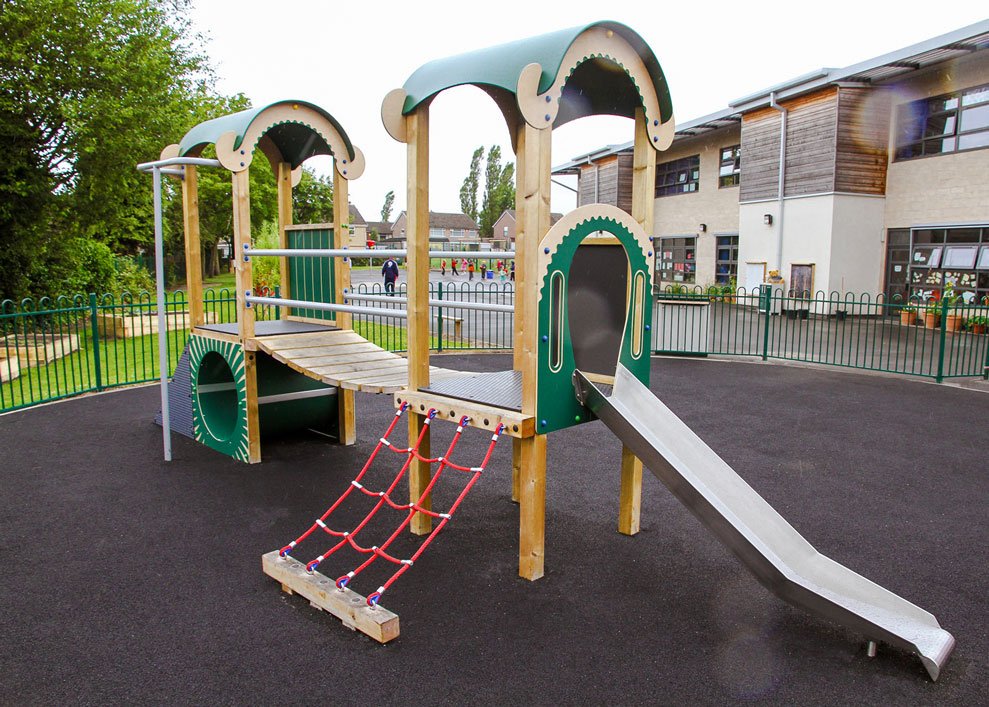 An active play zone is great for encouraging kids to play together and is a fun way for them to get physical exercise and develop physical skills. There is a wide variety of equipment which can be used to create this area including play towers which have rope climbing nets, swinging bridges and slides; wooden balance equipment; trim trail obstacle course equipment; and climbing walls. There is also a range of playground markings such as hopscotch and steppers.  
If you have more space, you can install mini roadways, complete with road signs, zebra crossings and bridges for children to drive their ride-on toys or trikes around. Alternatively, there's sports equipment like football and netball pitches.
2. Imaginative and creative zones
Younger children love imaginative play and it's vital for their social and cognitive development that they get the opportunity. There is a huge selection of imaginary playground equipment for you to choose from which will encourage them to go off on the most unbelievable role play adventures. These include logs to crawls through, magical distorting mirrors, shop kiosks, play huts, bridges, wigwams, sit on wooden trains, and much more. All you need to add is a basket of costumes and props and they'll be transported to their imaginary world in a flash.
If you are wanting to develop a more artistically creative zone, there are also panels and tables specially designed for painting, drawing and mark making as well a whole selection of fun outdoor musical instruments, such as chimes, drainpipe drums, xylophones and washboards.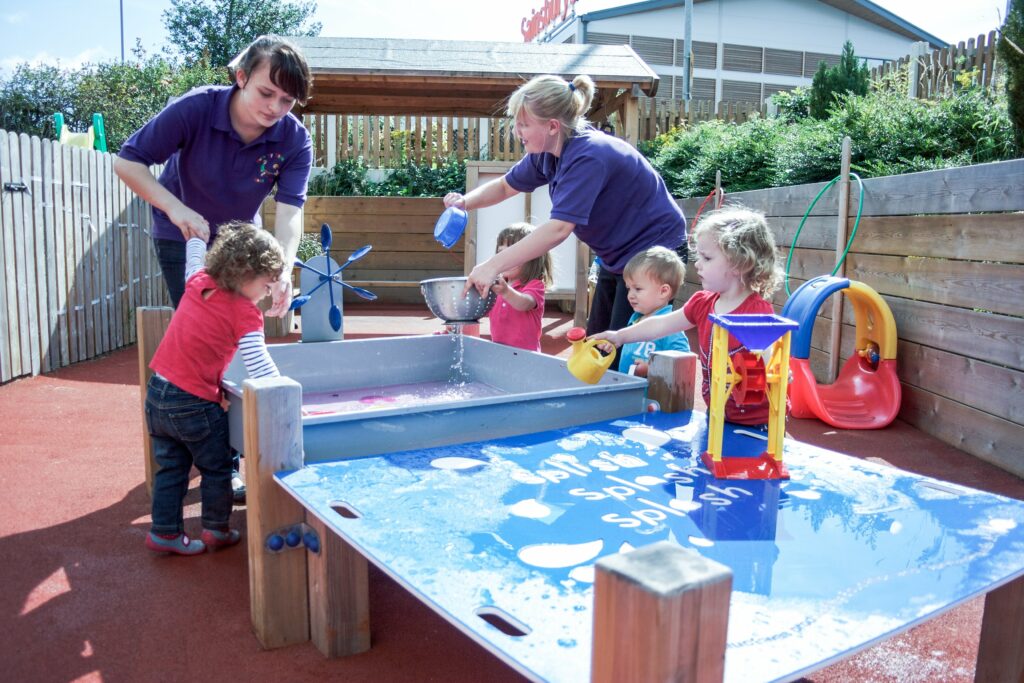 Childhood wouldn't be childhood without water, sand and mud pies. They're key ingredients for having fun and developing sensory skills at the same time. With everything from sand pits, mud kitchens, and water and sand play equipment to choose from, there's nothing to stop you creating what is sure to be one of the children's favourite places to play.
Nature zones offer young children three things: somewhere to learn about and appreciate nature; the ability to take part in a spot of gardening; and somewhere quiet to escape the noisiness of the other zones.
You can help foster an appreciation of nature by growing plants and by encouraging birds and insects to visit the zone. There is a range of planters and trellises which can be used to grow plants and there are also butterfly boxes, insect habitats, ladybird towers and bird tables available to install. Fence off the zone to protect it when it's not in use and you could soon see your own mini nature reserve in your school or nursery playground.
Of course, there's nothing to stop you getting the children to participate in the gardening by planting flowers, herbs and vegetables in the growing boxes, digging pits and herb planters. You can even put up a range of interchangeable nature boards to help them identify different flora and fauna that they might see or grow.
By setting your nature zone some distance from the noisier zones, not only do you encourage birds and insects to visit your nature zone, but you also create the calm atmosphere these areas need. Its' the perfect place to tell stories, sit and chat in the sunshine or even have lunch – picnic tables and seats that look like mushrooms are available. Check out our full range of nature equipment.  
Of course, you don't have to create the zones we suggest, the beauty of outdoor playground equipment is that you can create the zones you think will work best for your pupils. Other things which you may find useful include den making equipment which can be great at helping children learn to work together in small teams, and covered areas, such as shelters, canopies and pergolas, which enable outdoor play when it's raining.
With all this activity going on, the one thing you shouldn't overlook is the playground surfacing. Different zones are often best served by different surfaces. For example, you may want your nature zone lawned with natural grass but want your active zone to have a cushioned surface to protect from scrapes and falls. There's also artificial grass, rubber mulching, wet pour surfacing, resin bound gravel, grass matting and block paving available. There is a surface to suit every type of zone.
Outdoor free play environments give children every opportunity they need to learn while they play. Hopefully, this post will have shown you that through the creation of different zones you can empower you children in ways that are safe, motivate participation and stimulate learning. For more information about our range of school playground equipment, visit our products page or call us on 01282 43 44 45.