Over the seven years that a pupil attends your school, they'll spend around 1,200 hours in the playground. That's a long time. It's no wonder, therefore, that so many schools are looking for ways to make their outdoor spaces better. And there are countless things you can do. To help you get started, here, are our top six tips.
1. Improve your playground surfaces
The foundation of any good playground is the surface that the children play on. This feature of your outdoor space has several functions to fulfil. It needs to be safe, durable, great to play on, easy to maintain and be suitable for any equipment you want to install.
Whilst asphalt and tarmac were the standard surfaces for many decades, today they are not seen as the ideal solution for a good playground. They are expensive to maintain and their hard surface can cause injury if children fall or scrape themselves. Also, they are not really suitable for putting underneath the climbing equipment that many playgrounds now have installed.
Instead, there is a variety of more modern playground surfacing that you can choose, depending on your requirements. This includes the very popular wetpour surfacing that provides a safe, cushioned surface that is perfect for laying under climbing equipment and ideal for all forms of physical activities. There is also artificial grass, rubber mulch, grass matting, block paving and, if you want a better hard surface, you can always opt for resin bound gravel.
2. Give children places to sit and shelter
Our second tip is to provide pupils with somewhere to sit and shelter. Not every child wants to run around during breaktimes and when it's cold or very hot, shelter and shade provide some comfort from the weather.
To provide playground seating, consider installing wooden benches. These come in a range of designs including amphitheatre and hexagonal shapes which enable groups of friends to sit together. Alternatively, you can install picnic benches which are also useful for helping those with packed lunches find somewhere to eat outside.
As for shelter, there are quite a few playground shelters you can install. There is everything from large octagonal shelters with decked floors and built-in seating, to pergolas and sail shades. You can even add a few play huts and dens.
3. Add some greenery
Every playground should provide a sense of the outdoors and this wouldn't be complete without a little bit of greenery. Whilst some schools are lucky enough to have this in abundance, others have to have a more creative approach. Here at ESP Play, our nature and garden selection of products can help you do this.
With a range of planters, trellises and growing boxes to choose from you can grow everything from small trees and shrubs to colourful flower displays. Trellises are also a great way to turn drab walls into vibrant green areas.
4. Install traditional games markings
If you are looking for an affordable way to encourage children to participate in physical activities during their breaks and lunchtimes then playground markings are the ideal answer. Sports marking can provide your pupils with just the right incentive to play football, netball, basketball and a range of different sports. There are also markings for other fun and games activities, traditional and more modern.
5. Add a touch of excitement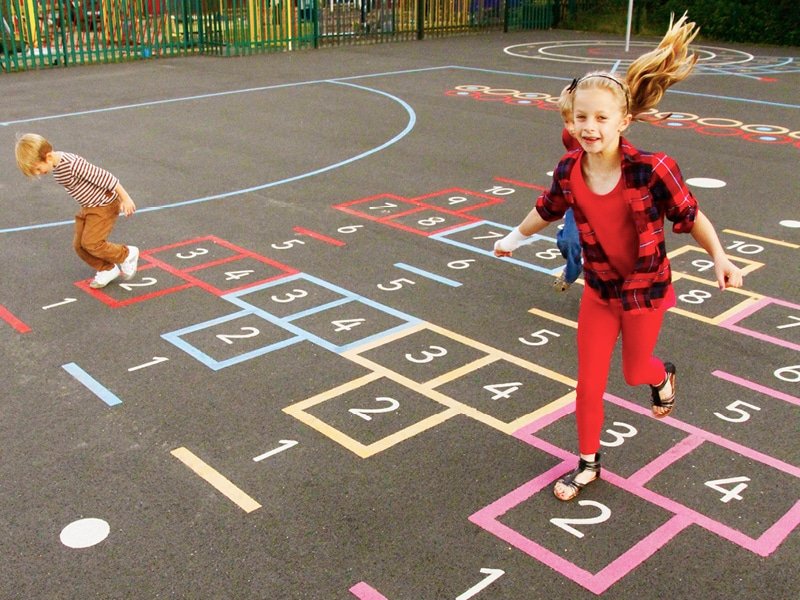 Increasingly, schools are now installing far more exciting playground equipment as part of their playground mix. This includes obstacle courses, climbing frames, traversing walls, play towers and even parkour equipment. Designed for safety, these items are great fun to play on and get the children active during their free time. They are also helpful in developing a whole range of skills, getting pupils to problem solve, take risks, face challenges and become more resilient.
The fun doesn't need to end there. There are also outdoor musical instruments, mud kitchens, water and sand equipment and a whole lot more. No matter what your pupils' age, abilities or interests, there is something to excite everyone.
6. Create different play zones
Our final tip is not about the types of products you can install in your school playground, but about how you install them. Over the years, we have found out that dividing your playground into different zones is the best solution. This provides safety by enabling you to put the more physical activities in areas where they are likely to cause less harm or damage: you don't want children traversing a wall to be knocked off by a high-flying soccer ball, for instance.
Zoning can also help you to manage the playground and supervise pupils better. You can keep older children away from younger ones, or place noisy activities away from quieter ones.
Conclusion
If you are looking for ways to improve your playground, hopefully, the tips we have provided here will help. Adding modern surfacing, places to sit and shelter, greenery, playground markings and a selection of exciting equipment can transform your outdoor space and the way your pupils use it, especially if it is divided into zones.
If you are looking to improve your playground, check out our range of products or look at our free playground design service.
Share This Story, Choose Your Platform!