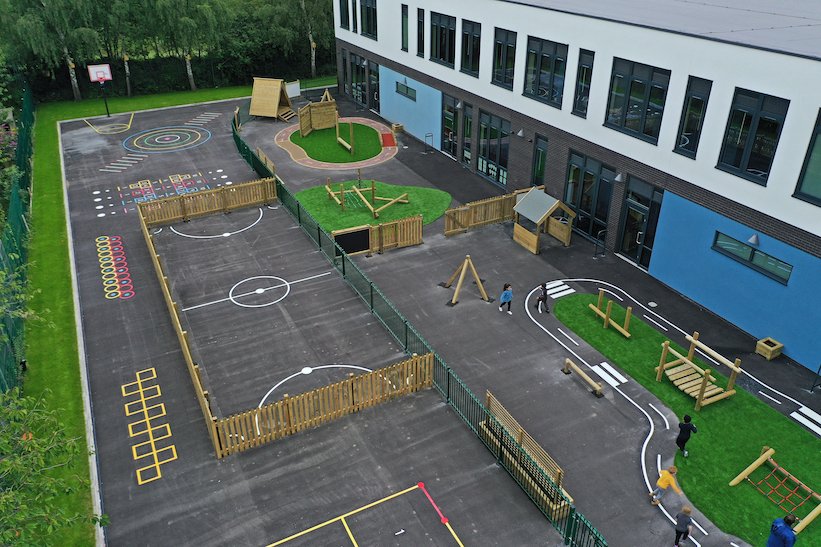 The footprint of a school playground is frequently larger than that of the school itself. Only recently, however, have schools begun to realise the enormous potential that these incredible spaces have to offer. From our experience of designing and installing playgrounds across the country, here are what we consider to be the things that make a good school playground in the 2020s.
Child safety is an essential ingredient of a good school playground and should always be the primary concern when upgrading. Best practice begins with your choice of playground contractor. Always choose a playground specialsit with lots of experience working with schools and which provides not just high-quality products and first-class installation, but also offers regular inspections and maintenance to keep the playground safe.
Other important considerations include dividing the playground into areas for children of different ages, for example, giving nursery pupils their own space away from the bigger children in Key Stages 1 and 2. The installation of modern playground surfaces, such as rubber mulch and wet pour surfacing, is also important because it reduces the chance of injury, especially when used around climbing apparatus. Finally, consider the use of activity zones, which prevent one form of activity interfering with another and potentially causing harm.
Accessibility and inclusivity
Every child should be able to access and benefit from a school's outdoor space and it's important to consider this at the outset of the design phase. Appropriate surfacing needs to be installed with pathways wide enough for wheelchairs and assisted movement.
Where possible, apparatus should allow disabled access or be adapted to assist with this, for example, providing ramps and rails that let those with disabilities play with their friends on the equipment. Even simple things, like picnic tables that are designed for wheelchairs to fit under, can make a great deal of difference.
Finally, you need to consider a range of play equipment that meets the needs of all and appeals to everyone's interests. This is where zoning comes into its own, as it enables you to have discrete zones for things like sports, climbing, creativity, roleplay, sensory play and messy play (mud, sand and water), as well as quiet, nature zones.
A good school playground can be used all year round
While you cannot control the seasons or the weather, there are quite a few things you can do to make your outdoor spaces usable throughout the year. The use of slip-resistant and self-draining playground surfacing can make your outdoor area safe and usable in wet and cold weather, while artificial grass can be used all year round and grass matting prevents natural lawns becoming a slippery quagmire.
The installation of trellises and the planting of shrubs not only adds a touch of greenery but if put in the right places, can provide shelter from biting winds. Octagonal shelters, with built-in seating, can accommodate a classful of pupils in wet, windy and overly sunny conditions. Verandas and sun sails can do the same.
A place for learning and fun
While play is an essential part of the learning process for children, a good school playground is also a place to deliver much more of the curriculum. While MUGA, gym, pitch markings, multi-skills zone and sports equipment are some of the many PE options, today, there are outdoor resources for many subject areas. Schools can install storytelling circles, science investigation tables, weather measuring centres, plant growing equipment, outdoor musical instruments, playground stages and much more. There is subject-specific equipment, purpose-built for outdoor use, for maths, English, science, art, music, design and technology, geography, history and languages.
Creating an outdoor classroom means less demand for internal space and provides teachers and pupils with a completely different learning environment, one where there is the space to take part in active learning and the freedom to explore the world around them.
A playground for health and wellbeing
Children's physical and mental wellbeing is a key issue at the moment: 12.5 per cent of UK pupils aged 5 to 18 suffer from a mental disorder and instances of childhood obesity continue to rise. While physical activity has been shown to have a positive effect on both mental and physical health, modern lifestyles mean children have little opportunity to get the recommended hour a day that health professionals say they need.
By choosing the right type of playground equipment, schools not only facilitate physical activity; they encourage pupils to increase participation. This makes pupils more active in the short term and helps them develop healthier lifestyles over the long term. What's more, it can help those with mental disorders like depression and anxiety cope better with their illnesses while potentially preventing others from developing disorders at all.
When planning a school playground, its impact on the physical and mental wellbeing of pupils should be taken into consideration. Sports, climbing and obstacle course activities are not only great fun, they require lots of physical exertion. At the same time, quiet nature areas are ideal for those who need some respite during the school day.
As you can see from this post, playgrounds can become highly valuable resources for schools, enabling pupils to have fun, socialise, learn and improve their health and wellbeing. Hopefully, the ideas mentioned here will inspire you to create the perfect outdoor space for your pupils.
For more ideas, visit our products page.