Installing fun and exciting school playground equipment can bring lots of benefits. It makes children more active, improves social interaction, aids inclusion and has been shown to have a positive effect on academic progress and behaviour. It's no surprise, then, that awesome playgrounds seem to be springing up everywhere.
Of course, playground equipment does come at a cost. Any equipment used in schools has to meet stringent safety standards and it also needs to be professionally installed. And with education budgets being squeezed, you could be wondering how so many schools have managed to afford to install such fantastic equipment over the last few years.
The answer is that rather than the funds coming completely out of school capitation, much of the money is being raised from other sources. In this post, we'll look the different ways that you can help fund your school's new playground project.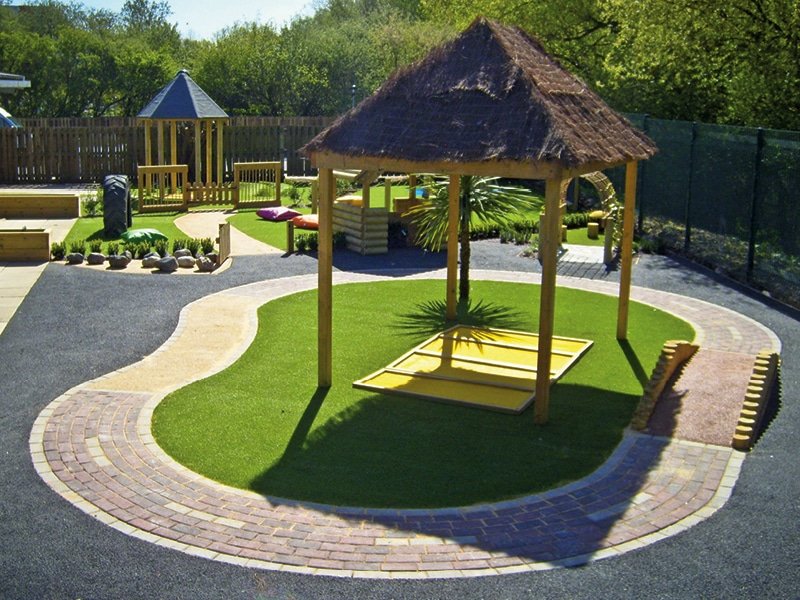 Create Your Playground Design
Before you can begin to raise money for your playground, you will need a clear plan of what you want to achieve. Only once you have a design in mind can you get a quotation for the cost and without this, you won't be able to apply for external funding or have a target for internal fund raising.
Your first task, therefore, is to find out what you want your playground design to achieve. This will mean looking at your school development plan, talking to parents and asking your pupils what they want.
There are many things you will need to consider:
Do you want to use equipment purely for play or for curriculum purposes as well?
What are the primary playground needs of your pupils? To be more active? Less bored? Interact better?
How will your design cater for the needs of all pupils?
What does your school lack that the playground can provide? Nature zone? Outdoor classroom? PE facilities?
What are the limitations of the space you have available?
Ideally, when drawing up your ideas, you should talk to a professional playground equipment company that can help you with the practicalities of your project and come up with solutions you may not have considered. At ESP Play, for example, we offer a free design service.
Building a Successful Team
Raising money requires a range of skills and it's not a task that can be undertaken by one person alone. Ideally, you need a team of people that includes teachers, PTA members or parents, pupils and governors.
Whilst it is important to have enthusiastic members in your team, you will need some expertise too. Someone will need to be the chair, you'll need someone who can take care of the finances, someone who has experience of writing bids (we can help you with this) and several people with the experience of organising fund raising events.
At ESP Play, we've seen schools come up with some fabulous fund-raising ideas over the years. Some of the easiest ones to organise are non-uniform days, raffles, cake and bun stalls, and table-top/bric-a-brac sales.
For parents, we've seen everything from 80s discos, quiz nights, live music nights and even summer balls complete with auctions. Pupils, on the other hand, are always up for the annual Halloween, Christmas, Valentines and end of year discos, and they love performing in concerts and shows.
Sponsorship is a perennial favourite and there is a wide range of things you can do: sponsored walks, bike rides, litter picks and car washes, for example. In addition, you can get some children to volunteer to pack customers' shopping at the local supermarket.
Slightly more challenging to organise but perhaps bringing bigger returns, are things like summer fetes or fun days. Get the children performing in an outdoor My School's Got Talent competition, set up a burger or BBQ bar, put out some tombola and games stalls and charge the kids to throw wet sponges at the head. With a small entry fee and profits from the activities, it can be a real winner. You can do an indoor one at Christmas too, raffling chocolate reindeer, selling mince pies and charging to see Santa.
There are many more things you can choose to do and many that will be unique to your school. It just takes teamwork to get them up and running.
There is actually a lot more external funding available than most schools are aware of. Besides national projects such as the National Lottery, there are many local, sometimes little-known sources of funds. Often donated by local philanthropists or bequeathed in wills, these funds are generally administered by local authorities.
To obtain funding, you would need to meet certain criteria and complete a detailed funding application. At ESP Play, we provide a Funding Bid Writing and Management Service where a member of our team will manage your application from start to finish to increase the likelihood of you securing the funding you need.
Besides applying for funding, you can also write to local companies and ask them if they would like to contribute towards the costs or perhaps sponsor some of the project work. It might mean a spot of free advertising in your newsletters and programmes, but it could be worth your while.
A much more modern approach is to put your project on a crowd-funding site and see if you can raise the money on the internet. This way, you can reach a much wider audience, especially if you can get the word out on social media.
If you intend to raise money for PE equipment, such as a multi-skills zone, you can also use your Sports Premium budget towards the costs.
If you really want your school to benefit from the installation of playground equipment but don't have the financial resources within your school's budget, there are many ways you can raise that money through fund raising events and by applying for external funding.
If you need more detailed information about applying for external funding, contact our Customer Care Team on 01282 43 44 45 or via our contact form and we will send you our FREE funding guide. Our guide includes information on how to use ESP's unique Funding Bid Writing and Management Service; what products you can spend your Sports Premium Budget on; and how to acquire funding directly from ESP.