In an era when educational leaders are looking for ever more creative ways to solve complex problems, one of the most popular and innovative solutions has been the Multi-Use Games Area (MUGA). The MUGA has proven itself to be useful in a wide range of educational settings, from primary schools to colleges, and has become the option of choice for those who want to offer students a broader range of sport, exercise and excitement.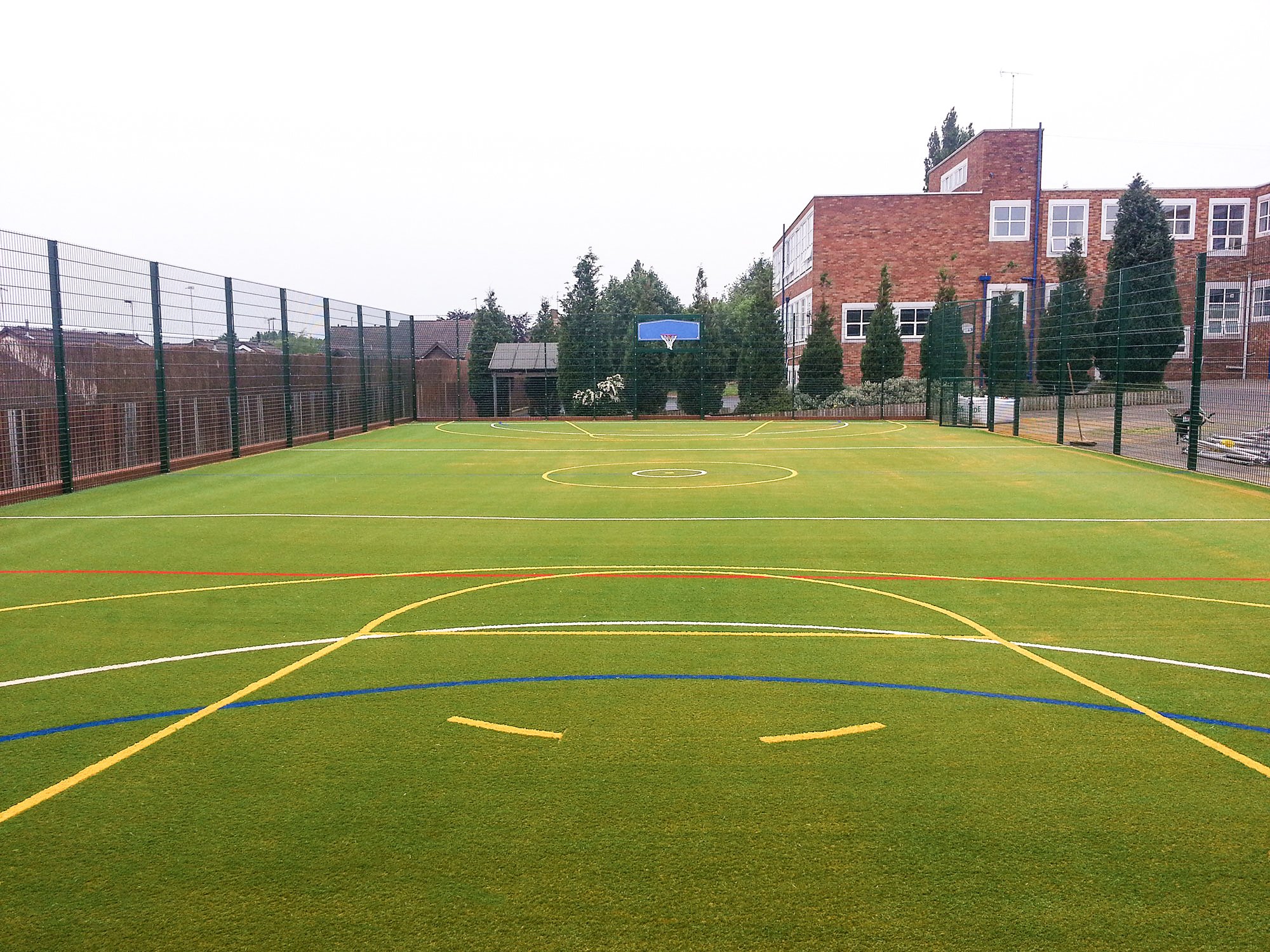 Space-saving and money-saving, a MUGA pitch is essentially an outdoor space carefully designed to incorporate a number of different sports and games activities. Its installation means schools can offer a wider repertoire of physical activities and, through this, encourage more children to take part.
The beauty of the MUGA is that there are lots of design options available. This means schools can create a MUGA that meets their development plans and which offers activities that their pupils will relish participating in.
Increased enjoyment is a decisive factor in choosing a MUGA. As children have fun taking part in the new forms of exercise, it will help them with both physical and mental wellbeing. Indeed, the positive feelings they experience can help them develop a better attitude towards staying healthy and lead them to adopt increasingly active lifestyles.
There is a range of MUGA sports pitches available, with different surfaces, including artificial grass,  and a variety of pitch markings, such as football, hockey, netball, tennis, basketball and cricket.  There are also other features you can include, such as goal posts, basketball/netball nets, ball walls and wall targets. What's more, the pitches can be sized to fit the space you have available, letting you maximise the use of your existing outdoor area.
The educational advantages of a MUGA
MUGA facilities provide schools and colleges with a range of useful benefits. One of the most important is the ability to develop a wider PE curriculum, something the government's new School Sports and Activity Action Plan (July 2019) seeks to do as it aims to put sport back at the heart of children's daily physical activity. By fitting out a single space with multiple pitch markings, schools are able to deliver a wider variety of sports for pupils to take part in. This flexibility is ideal for schools with small outdoor spaces that are currently only able to offer limited provision, though even those with extended grounds have discovered the benefits of having multiple MUGAs.
Children can also use MUGAs to play on during break and lunchtimes. This provides all students with the opportunity to participate in enjoyable, physical activity every day of the week and, in doing so, increases the time they can be active far beyond that which is allocated in the timetable. Furthermore, the allure of playing on a properly marked out pitch increases the likelihood of them wanting to get involved. This is especially so when the pupils have been consulted about the types of sport and games they would like to play before the MUGA was designed. Indeed, by installing preferred markings, you help reduce playground boredom and this can have a positive impact on behaviour, both during breaks and back in the classroom.
MUGAs also enable schools to offer a wider choice of extracurricular sporting activities, giving some pupils the ability to develop skills to a higher level or take part in sports they really enjoy. They make it easier to bring in expert, third-party sports providers to deliver after school workshops and also enable the school to play in a variety of inter-school leagues and competitions and do so at your home ground instead of having to play away matches all the time.
Beyond the educational benefits discussed above, MUGAs also provide various other advantages. Financially, MUGAs deliver the most cost-effective way to utilise outdoor space as a single area can be used for a range of different sports. This cuts down on the amount of maintenance required to keep multiple sports pitches in good condition and frees up additional space for other uses, such as for track and field sports, outdoor classrooms, nature areas or the installation of climbing equipment.
Additionally, MUGAs are excellent facilities to let out to sports clubs for evening and weekend training and matches. As these tend to be long term lettings, they can help generate significant income over the academic year which, with today's tight budgetary constraints, most schools would welcome. Such income could be fed back into the PE curriculum to provide new sports resources, such as an outdoor gym or even an additional MUGA.
MUGAs really are an innovation in the use of space. They expand the number of sports children can participate in and, through that increased participation, help the pupils live healthier lifestyles. At the same time, they enable the school to develop a broader curriculum, improve break and after school activities and provide an additional way to generate income – and all this can be done in one single, easy to maintain space.