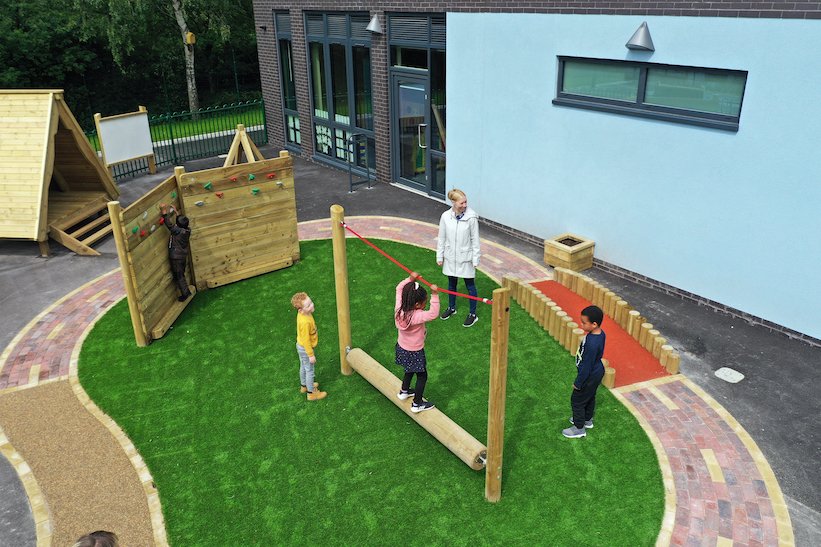 The Covid-19 pandemic means significant changes for schools and nurseries reopening in September. Not only will this affect what goes on in the building but it will also impact the use of the playground, particularly where shared playground equipment, like climbing frames, play towers and sand pits are installed. Here, we'll look at the latest government advice on what schools should be doing to keep their playgrounds safe in the new academic year.
The government's guidance is for the governing bodies of schools and academy trusts that provide playgrounds with shared play equipment or outdoor gyms. While schools have to comply with existing health and safety legislation, the new guidance is non-statutory. This is because each school will have different circumstances and their playgrounds will have different layouts and equipment. However, schools will need to implement processes that protect people who use, clean and maintain their outdoor equipment.
Before playgrounds are allowed to be used, schools must first undertake a Covid-19 risk assessment. According to the government, this must be done in consultation with unions or, where representation isn't in place, with the staff.
To ensure compliance with existing health and safety legislation, the assessment must examine the risk of potential Covid-19 transmission for anyone who uses the equipment, including pupils, teachers, teaching assistants and playground supervisors, as well as any cleaning and maintenance staff or those from third parties. The governing body's responsibility is to "do everything reasonably practicable" to minimise risk.
Social distancing remains one of the government's key strategies to reduce the spread of Coronavirus and this currently requires people to keep 2 metres apart or 1 metre with risk mitigations. The government recognises, however, that maintaining social distancing can be challenging in a playground setting and that schools will need to implement additional measures.
One option is to limit the number of pupils and staff who have access to the playground at any one time, perhaps adjusting the school timetable to put this in place. In addition, further social distancing can be implemented by limiting the number of pupils using a specific piece of equipment or reducing the length of time they can play on it.
Further measures include using signs to communicate the maximum number of users, increasing supervision to ensure pupils follow instructions, implementing a one-way travel route around the playground and between equipment and, where pieces of equipment are less than 2 metres apart, temporarily shutting one down.
The cleaning of equipment is vital to prevent the spread of the virus, especially if it is being used by different pupil bubbles throughout the day. Schools are advised to clean busy touchpoints frequently. This includes equipment such as climbing frames, slides, play towers, play huts, crawl tunnels, exercise bars, gym equipment, gates, benches, picnic tables and bins.
If pupils are grouped into bubbles, cleaning is most effective if done after each bubble has left the playground and before the next bubble arrives. Cleaning products should be those which are effective against the virus but which do not pose injury or harm to users.
Under current Covid-19 guidance, face coverings are only required in enclosed public spaces and only for children under 11. While Schools Minister, Nick Gibb, said pupils over 11 will be expected to wear them on school buses and moving around school buildings, they are not required in classrooms as other protective measures are being introduced.
As playgrounds are not enclosed spaces, there is no current requirement for children over 11 to wear a mask. However, if social distancing is difficult to maintain when using playground equipment, it is an option that schools could consider.
Besides the guidance given above, other advice includes using playground posters and signage to remind pupils and staff of the school's procedures and of general COVID protection advice; placing sanitising stations next to equipment and at entrances; providing more waste bins and increasing the frequency of rubbish collections, and banning the consumption of food or drink in the playground or on play equipment.
The government has also issued advice on how schools should help pupils with additional needs in playground environments. For example, they may need more frequent reminders about new rules or require assistance moving between apparatus or carrying out hygiene regimes.
The new normal in schools is going to take a great deal of adjustment for pupils and staff alike in September. Being able to participate in play is vital to help children acclimatise to the new setup and begin to socialise again after months of lockdown. Hopefully, the advice given by the government and summarised here will help you provide a safe and inviting playground for your pupils. For more information, visit the government's outdoor playground and gym guidance page.
For more information about our products, visit our Products Page.