When schools consider installing playground equipment, often the first thing that comes to mind is sports equipment, such as football and netball markings or basketball nets. Although these are great features to add to your playground, not every pupil wants to play sport during their free time. To help you cater for the full range of children's interests, we'll take a look at outdoor play equipment for non-sporty kids.
For those who just want to chill out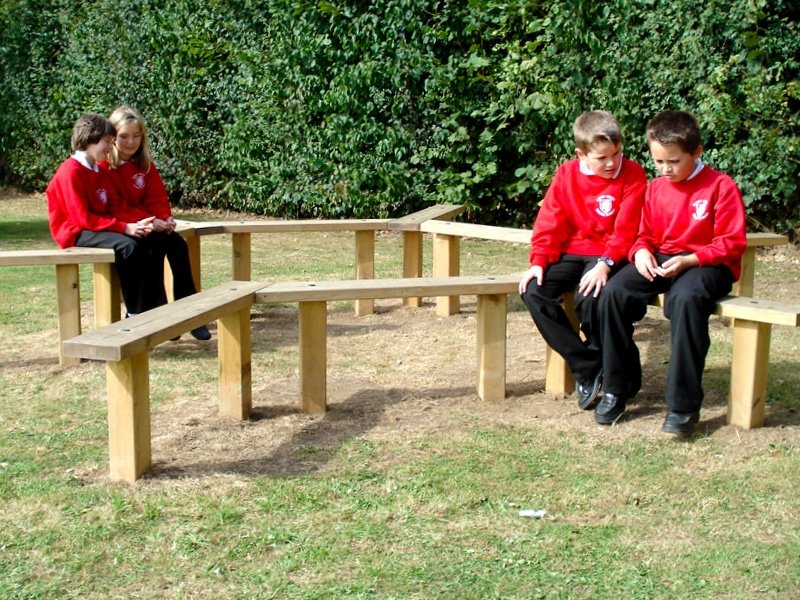 Whatever school you teach in, there will be plenty of pupils who just want to sit and chat together during break times. This is especially true for older children. Unfortunately, there is often nowhere for them to go and so they end up sat on floors, steps, walls and windowsills. It's uncomfortable, potentially unhygienic and not the safest of practices.
A better alternative would be to provide these children with somewhere more comfortable to sit and chat. There are many different types of outdoor school seating available, including picnic tables (which are ideal for freeing up dining room space) and a variety of straight and circular benches. For less clement weather, there are also lots of sheltered seating options, such as our octagonal shelters with built-in seating.
The other advantage of installing playground seating is that you can place it strategically in your yard. When kids don't have somewhere to sit, they will plonk themselves anywhere. When seating is installed, it can be put somewhere that's easy to keep an eye on and which is safely away from those doing more physical activities. That way, no-one is going to get hit in the face by a football.
Many children would love the opportunity to take part in more creative activities during break and lunchtimes. There are always pupils who want to use the hall to practise dance or drama or who would like to stay in to draw and paint or play with musical instruments. Sadly, with a lack of supervision, they end up disappointed.
Luckily, playtimes for these children no longer need to be boring. There is a wide selection of creative outdoor playground equipment that can liven up the lives of your artistic pupils. For those who like to make some noise, there is enough outdoor music equipment available to start up a playground band: chimes, drainpipe drums, drum tables, xylophones, rain wheels, washboards and even a talking tube.
Your little Picassos can get stuck into their artwork with our range of outdoor art equipment. We've got outdoor whiteboards, chalkboards and painting boards, all of which are interchangeable and can be easily taken down and stored when not in use.
Budding performers also have a choice of outdoor stage equipment. We have a range of wooden stages in differing shapes and sizes, a stage façade to give the appearance of an outdoor proscenium theatre and even one, two and three tier amphitheatre seating where their friends can watch them perform.
Younger children love roleplay and it plays an important part in their development. Here at ESP Play, we have created some marvellous outdoor roleplay equipment to help fire children's imagination.    
Our current selection includes two wooden bridges, a train, a storytelling chair, a shop/kiosk play panel, a carriage, wigwam posts plus lots of stages. These playground features are a great way to inspire children to think up and act out stories and scenarios during their free time.
What better way for non-sporty kids to enjoy being outdoors than to play games? And there is a good range to choose from. We've got outdoor dominoes, battleships, puzzle tables, Soma cubes and, for those who like to score without having to run around kicking a ball, there's outdoor table football. There's even a selection of playground markings for games such as hopscotch.
We also have lots of outdoor game boards with traditional games such as Ludo, Connect 4, chess, draughts, noughts and crosses and snakes and ladders.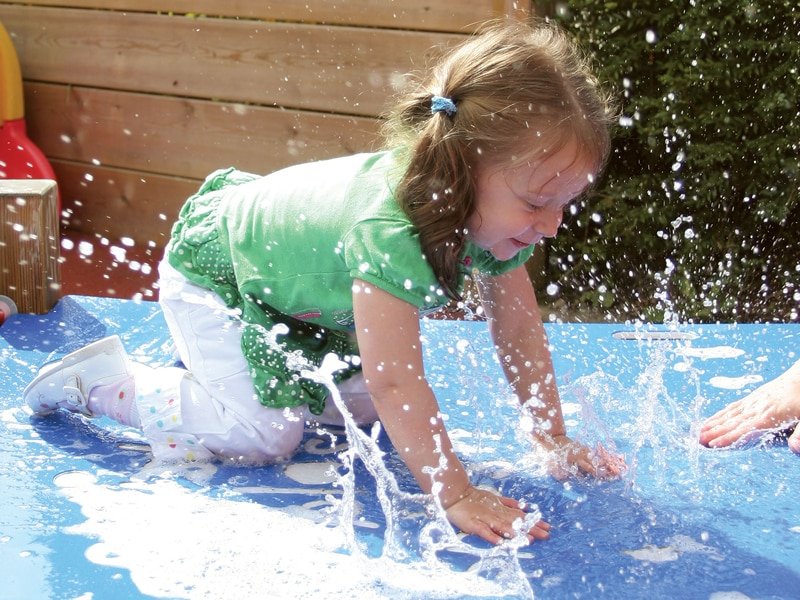 Children seem naturally attracted to sand and water and when combined the pleasure is even greater. Now we've come up with a practical and easy way to put them in your playground, letting your pupils have fun in a way that's not going to cause a big mess. We'll, not too much.
Our outdoor water and sand play equipment is a modular system which can combine different elements together to create your own play area. From a single water play pool or sand box to the larger 'Beach and Splash World', the choice is yours.
Whilst many children don't want to play sports, lots of them like to be active and we've got the perfect solution – create your own adventure playground. Whether you are looking for something big or small we have a huge range of safe but exciting equipment to choose from. This includes our fabulous Trim Trails and Free Flow climbing frames, our nature inspired Wild Wood equipment, play towers, sand pits, parkour blocks and climbing walls.
There's nothing better to make playtimes exciting and to keep children active. For more information see our full range of outdoor playground equipment.
As you can see from this post, there is equipment available to keep every child happy during break and lunchtimes, whether it's just providing them with somewhere to sit and relax with friends or giving them the challenge of a purpose-built obstacle course. If you need assistance in deciding what's right for your playground, give us a call on 01282 43 44 45 and we'll be happy to help.