As schools strive to improve the quality of their playgrounds and develop them into places for learning and recreation, they face two common challenges: finding practical playground seating and providing shelter from the elements. Today, there is a range of different solutions you can choose from to solve these problems and in this post, we'll look at what they are.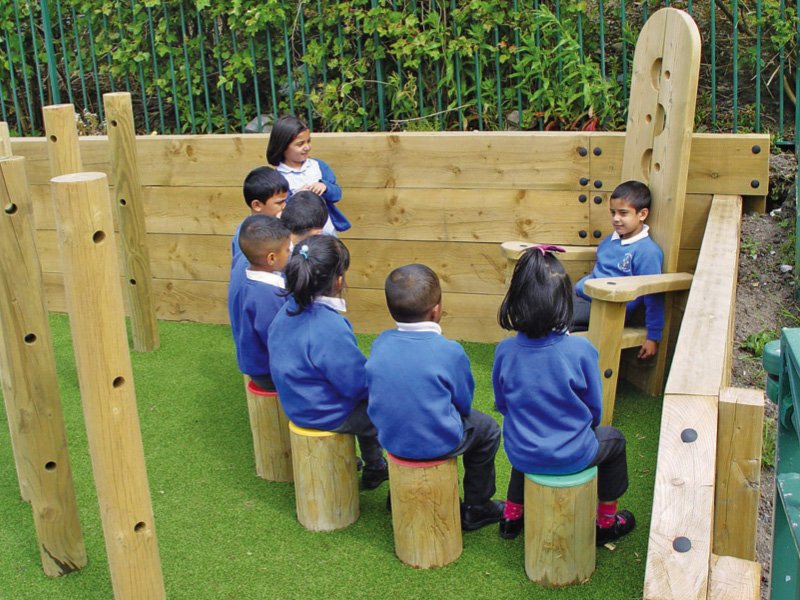 Outdoor seating for al fresco eating
Lack of internal space and shorter lunch times means schools often lack the capacity to seat all children in the dining hall. This leads to hurried service, overcrowding and children turning up late to afternoon lessons. While the most common solution is to let kids who bring packed lunches eat them in a classroom, that classroom often needs a good clean-up before the next lesson starts.
One way to take the pressure off is to install outdoor picnic benches. Strong and sturdy, each one can accommodate a small group of children who can sit and eat together in comfort.
Picnic benches come in a range of sizes, shapes (rectangle or circular) and designs, most with the seating built-in. There is also a specially adapted picnic table that is suitable for wheelchair users.
Make your playground a seat of learning
Outdoor learning often involves children working in groups and there are a number of seating options that are ideal for this. These include our log amphitheatres which enable the group to form a three-sided audience with space in the middle for the teacher or another group member to present to them. Amphitheatres are available in single, double and three-tier versions, enabling you to cater for groups of different sizes. It is also possible to install a wooden stage in front of the amphitheatre to create an outdoor performance space.
Another popular solution for primary schools is to create storytelling circles using padded log seats and mushroom seats. You can add to the magic by putting one of our storytelling chairs in the centre of the circle. These are excellent for outdoor storytelling and reading sessions or for circle time.
Finally, there are specially designed handwriting practice tables. These mini picnic benches, featuring a number of switchable, ruled whiteboard surfaces, are designed for younger children to work in pairs or with one to one support.
Social seating for recreation
While all the seating mentioned above can be used by children to sit and chat with their friends during break times, there are others available as well. These include planter seats which incorporate wooden planters, allowing you to grow flowers or shrubs to create a more pleasant playground environment. If you have trees in your outdoor area, we also have a hexagonal tree bench which goes around the trunk. This is a great choice to give children somewhere shady to sit on hot days or for them to find a bit of natural shelter in the rain.
There is also an assortment of benches, including log benches, crooked benches and even benches that have green painted wooden tree posts built-in. One of our most popular benches is the sunshine seat, a version of an amphitheatre that looks like a sun with rays coming out. The rays, of course, are additional seats that help create five mini seating bays to accommodate different groups of friends.
Finally, there is also a range of games tables, mini picnic benches with an assortment of traditional board games built into the table-top, these include snakes and ladders, Connect 4, solitaire, noughts and crosses, chequers and more.
Octagonal shelters are ideal outdoor classrooms. Open to the air but with inbuilt seating, walls high enough for backrests and a roof to keep the rain or sun at bay, they offer the ideal circle for teaching and learning. They can even come with a whiteboard or blackboard and can be finished with decked flooring. You can use these shelters for a variety of outdoor learning scenarios: for performing drama or dance, for whole-class reading, class debates or as a place to base lessons which require pupils to explore the wider school environment.
Playground shelters for keeping dry
There are some days when it's perfect for playing out and some days when it's an obvious no-no. Somewhere in between, are those days when the kids are sent out but it's cold, damp and miserable. While many will just get on and play, there are always those left huddling in corners, shivering in doorways, hiding in the toilets and wandering aimlessly around the school in a desperate attempt to find some warmth and comfort.
A shelter is a simple way to make these kinds of days a little easier on the pupils and to make break duty less of a hassle. Aside from the octagonal shelters mentioned above, there are also shaded pergolas and roofed shelters of differing sizes and with specifications that include seating. All of these can help keep the children dry in drizzly outdoor breaks and keep the sun off their heads when its in danger of causing sunburn. Put next to a wall or in a corner, they can also provide shelter from the wind.
For primary schools, our Woodland and Forest range of products include a number of play huts that are ideal for small groups of children to play in during colder weather, there are even ones with picnic tables so that they can eat outdoors under a roof.
Hopefully, you'll be pleasantly surprised by the wide variety of seating, benches and shelters now available for schools and the number of uses they can be put to. Together, they truly allow you to create a multi-purpose outdoor space, suitable for all occasions.
For more information visit our shelter and seating sections.