When creating a stimulating environment, many schools put all their focus indoors. You see fabulous classrooms and corridors but when you look outside all you find is a dull rectangle of grey asphalt. Ofsted, however, expect to see more. They want your outdoor space as a place where learning and personal development can continue during the children's free time.
For those looking to develop their playground, here are some ideas of how you can make it more stimulating for pupils and inspectors alike.
What should you be trying to achieve?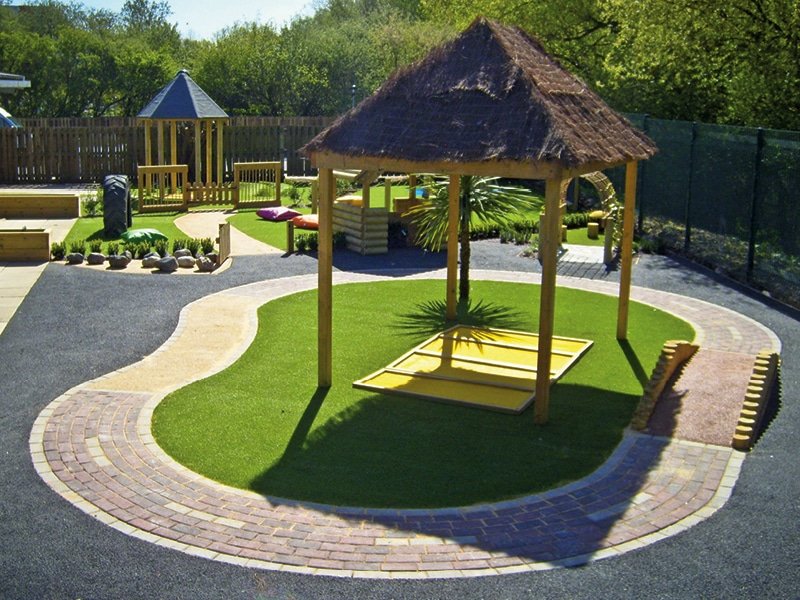 According to audit tools from the Essex County Council and the National Strategies, schools and EYFS providers should be asking the following questions when assessing the quality of their outdoor environment:
Do children have access to a well-resourced outdoor environment?
Is the area well organised, inviting and challenging?
Does the playground enable children to develop their independence?
Are there are opportunities for children to be physical?
In the rest of this post, we'll show you how you can develop your playground in a way that you can give a positive response to each of the questions above.
Creating a well-resourced playground
How you resource your playground depends on the pupils. The resources you install need to be appropriate for the children's age, abilities and interests. The starting point, therefore, needs to be some form of pupil consultation so you can discover what features they would like to see.
For secondary students, this might include something as simple as having a playground shelter or some seating and furniture where they can sit and chat with friends. They might also want some sports markings to play football, netball or basketball. It's unlikely that these things alone, however, could be regarded as well-resourced. Luckily, there is plenty more secondary school playground equipment on offer: outdoor table tennis, multi-gyms, trim-trails, climbing walls and much more.
For primary and EYFS pupils, there is a whole wealth of stimulating equipment on offer. For those who like more tactile activities there are water play tables and sand boxes. There are even a mud kitchens and sand pits. We've also got den building equipment, outdoor musical instruments and we can even install a play road to drive those trikes around!
At these ages, one of the things schools want to stimulate most is a child's imagination and there are lots pieces of equipment to help them achieve this. Here at ESP Play, our imaginary playground equipment includes play huts, hollow logs, distorting mirrors, shop kiosks, bridges, sit on wooden trains, wigwams, and much more.
An organised, inviting and challenging playground
Organising your playground essentially means designing the layout of your equipment in a way that is safe and practical. For example, you don't want to put football markings directly next to a climbing frame in case a climber gets hit by the ball and falls off.
Luckily, at ESP Play, we've had years of practice designing playgrounds and have a wealth of experience working with schools. We will work with you to design a playground that is perfect for your school and pupils. Of course, our playground design service is free.
Making your playground inviting isn't just about putting in brightly coloured or interesting looking resources, though these help. What's more important is that you have equipment that the children really want to use. Most year 11 students, for example, aren't going to be too enamoured by a sand pit. To make your playground work, get Student Voice involved right from the start.
When it comes to creating a challenging playground, there are lots of resources available. Interchangeable Trim Trails, climbing walls and All-Go Gyms, for example, all enable pupils to challenge themselves to do things which are increasingly difficult, which may require them to overcome fears or which encourage them to set new personal bests.
Helping children develop independence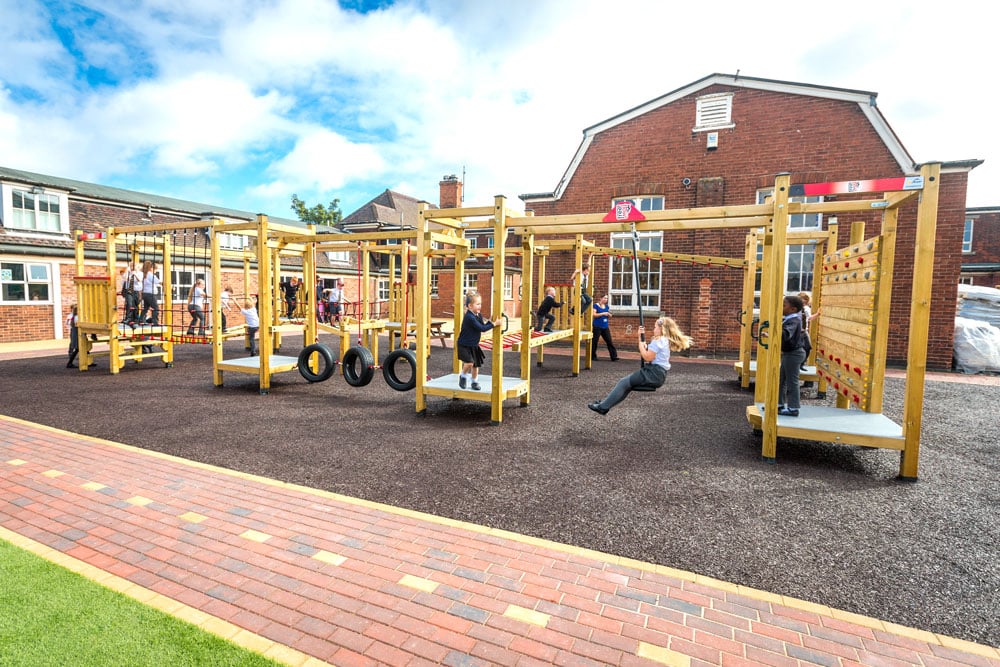 Children become independent when they can do things for themselves. To get there, however, they need the self-confidence to have a go and the resilience to pick themselves up and start again when they fail.
Once again, trim trails and climbing walls are excellent resources for doing this. Trim trails are obstacle courses which, because some of their components are interchangeable, can be made increasingly challenging. They are fun to play on and are great for building self-confidence and resilience. The same applies to our climbing walls. A child may have to make several attempts to get from one side to the other before they achieve success.
The self-confidence and resilience developed using these types of equipment can then be used in other areas of learning to develop their all-round independence.
Giving opportunities to be physical
Much of the equipment already mentioned above provides plenty of opportunities for children to get physical exercise in the school playground. Trim trails, climbing walls and All-GO Gyms are great for developing muscle strength, balance and stamina whilst football, netball and basketball are good aerobic exercises.
However, after sitting down for a few hours in the classroom, equipment that motivates pupils to do any form of physical activity is welcome. This can be achieved just as much with imaginative playground equipment, through the wide range of playground marking games or through traditional playground installations such as play towers and slides.
As you can see, things have moved on from the days when playground equipment amounted to a couple of school jumpers for goal posts and a half-deflated football borrowed from the PE teacher. Today, Ofsted wants to see playgrounds play their part in helping young people develop and stay healthy. Hopefully, this post will have shown you how to create a stimulating playground environment and given you some ideas of how to equip it.
For more ideas, visit our products page or call us on 01282 43 44 45.