Receiving the Healthy School Award is an achievement for any school as it shows commitment to the health and wellbeing of staff and students alike. It proves you've put policy into practice and come up with beneficial outcomes – something that will be appealing to Ofsted, potential parents and those highly skilled staff you need to recruit. In this post, we'll look at the ways outdoor play equipment can help you achieve healthy school status.
Areas in which school playground equipment can help
There are four core elements schools needs to address to achieve the award: personal, social and health education, healthy eating, physical activity, and emotional health and wellbeing. Outdoor play equipment can help you meet several of the criteria in the last two of these areas.
Many of the criteria listed under physical activity are managerial ones – creating policies, implementing and monitoring plans, and consulting with others, however, the aim of all these is to ensure the following outcomes are achieved:
Pupils are provided with a range of opportunities to be physically active.
They understand that physical activity can be a part of their everyday life.
They understand how physical activity can help them to be healthier.
Installing outdoor playground equipment at your school can help you achieve two specific criteria under this heading: firstly, with providing two hours of structured physical activity per week and, secondly, with getting children to participate in extracurricular activities that promote physical activity.
Helping improve structured physical activity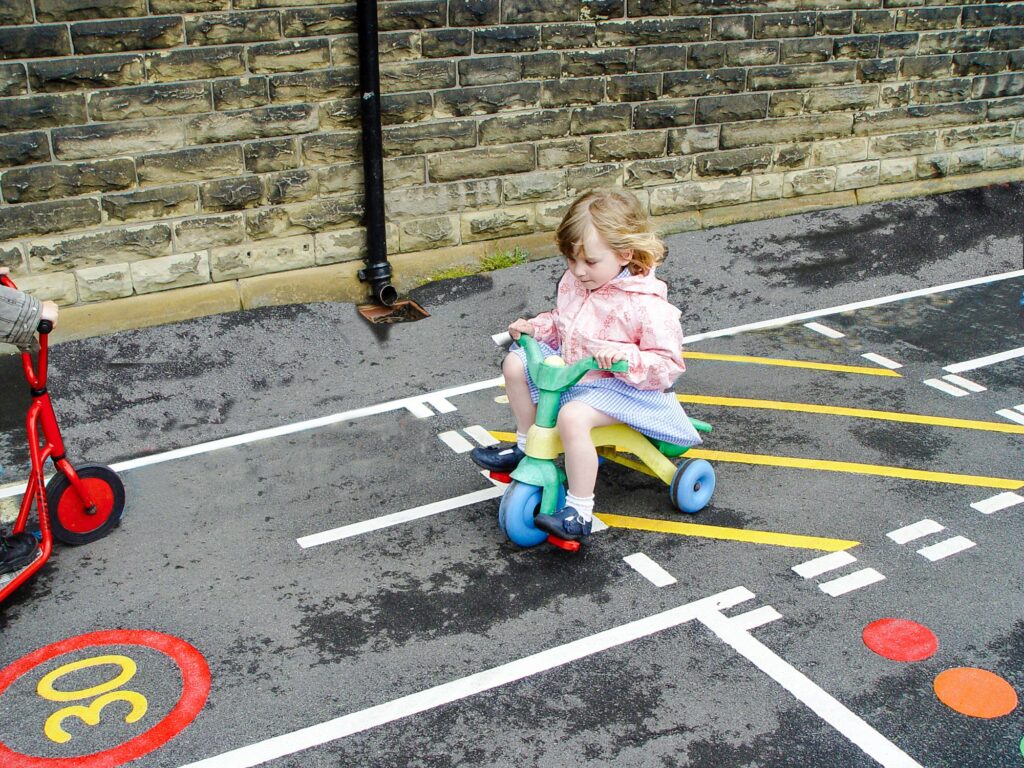 When it comes to structured activity, there is a wide range of outdoor playground equipment that can help. For example, at ESP Play, we provide playground markings for many different sports including basketball, cricket, football, netball and tennis. There is also a wide selection of markings that are designed for sports training and to develop skills, such as target trainers, zigzag steppers and ball catcher trainers. These can be placed together to create a multi-skills zone.
In addition to our markings, we have other equipment to help with physical activity, such as our AllGo outdoor multi-gym, which includes pull up and press up bars, leg raise, step up box, monkey bars and sit up benches. Of course, we provide all the other equipment you may need, too: basketball hoops, football goals, safe playground flooring, etc.
With this range of equipment available, it is easy for schools to extend the opportunities for pupils to participate in structured physical activity – both within the curriculum and in extracurricular activities.      
Improving participation in extracurricular physical activity
Improving participation in extracurricular activities can be a real challenge for schools. Teachers are still busy when the school closes and many children can't or don't want to stay at school beyond the final bell. However, outdoor playground equipment offers the perfect solution. If it is in your playground, every child has access to it every single day, and as it provides the opportunity for unstructured activity during break and lunchtimes, there is no need for extra staffing or to plan activities.
The key to increasing participation lies in installing equipment that will entice pupils to take part and at ESP Play, that is something we specialise in. Besides the equipment mentioned above, which provides the opportunity for a spot of lunchtime football or netball, we have a wide range of equipment designed just for active play. This includes exciting Trim Trails and Free Flow climbing apparatus, RoSPA approved Parkour (freerunning) equipment, climbing walls, play towers and much more.
Independent research has shown that equipment like this encourages much greater participation in physical activity – both in terms of how many students get involved and the amount of time each student participates.
By providing these types of facilities it would make it much easier for schools to achieve the criteria of increasing participation. It would also be easy to provide data about the number of children participating in order to prove that increases had occurred. In addition, this also helps to show children that physical activity can be part of everyday life – another criteria schools need to meet.
Of course, not every child wants to take part in these types of activity but there are ways you can encourage the less sporty and more artistically minded pupils to get active too. For younger children, there is a selection of role-play equipment: bridges, tunnels, trains, wigwam posts, etc., and for children of all ages, there is a selection of stages on which they can practice and perform dance routines or make up their own plays.
Improving emotional health and wellbeing
Our playground equipment for schools can help you meet three separate criteria for emotional health and wellbeing:
Establish appropriate strategies to support vulnerable children.
Create a positive environment which enhances emotional health and well­being.
Provide opportunities for pupils to participate in school activities to build their confidence and self-esteem.
The reason school playground equipment can help is that physical activity can improve a range of mental health problems including depression and anxiety - indeed, it is sometimes prescribed as a treatment for these. It can even have a positive impact on ADHD. And for all children, it has been shown to improve mood and cognitive alertness.
In this sense, simply installing fun and stimulating playground equipment immediately creates a positive environment for enhancing emotional health. That equipment, however, can also be used to put 'appropriate strategies' in place to support children with emotional issues or diagnosed mental health problems. Giving these students timetabled access to equipment will increase their activity levels to help them deal with their illnesses. This is certainly worthwhile considering the difficulties schools have in accessing other support, such as educational psychologists and trained counsellors.
As for the third criteria, school playground equipment such as trim trails and climbing frames has an in-built element of challenge. Children want to get to the end of the obstacle course or finish the climb before falling off. These are perfect for building confidence and boosting self-esteem all while doing something that is fun and healthy. And because many of our products have interchangeable components, you can increase or decrease the challenge whenever you need to.
From reading this article you should now have a clearer idea of how school playground equipment can help your school attain Healthy School Status. It can be used to expand opportunities for structured physical activity, increase participation in extracurricular time and, by helping kids be more active, have a positive impact on their emotional wellbeing.