During Early Years, it's critical that young children are given the opportunity to develop the key skills that will help them progress more quickly once they reach Key Stage 1 and beyond. For children at this age, play is an essential part of their learning routine so it is important to give them access to equipment that can help them acquire and hone these skills. This doesn't just include indoor equipment: providing early years playground equipment can be just as beneficial and here we'll look at how it can be used to develop the skills EYFS pupils need.
Developing personal effectiveness means giving young children the skills needed to deal with the world in which they live. It means teaching them to set goals, take on challenges, develop resilience and experience success.
These are all skills that, with the appropriate resources, can be developed and practised in the nursery playground. Challenge, for example, can be facilitated by installing climbing and traversing walls installed over wetpour playground surfacing. Here, children can set themselves goals about which climbs to tackle and the best ways to make it from one end to the other. Of course, at some point, they might find the challenge daunting or even fall off and need to restart. Keeping going, however, helps them to be more resilient. When they finally overcome the challenge, they will then get to taste success. And while this all seems like a fun game, the personal effectiveness skills they acquire in the playground can, ultimately, be transferred to other scenarios.
Everyone needs to develop skills in working with others. Children will need it not just through their school years but in their careers and private lives, too. During their education, they'll take part in paired and group work, as well as being involved with various teams. Indeed, as collaborative learning techniques are now widely used, it's the pupils who have mastered those skills that will benefit the most, performing better in lessons, learning quicker and progressing further.
For Early Years providers wanting to increase the opportunities for the development of collaborative skills, there are a number of playground equipment pieces you can choose. An Early Years Trim Trail obstacle course is ideal for getting children to participate in teams, as they will need to work together to complete the course successfully. Outdoor percussive instruments are also helpful as children will have to cooperate when creating their own musical patterns using xylophones, drums, drainpipe drums and washboards.
Creativity is the uppermost skill on Bloom's Taxonomy pyramid so encouraging children to develop creative thinking skills can have significant benefits. Children are often at their most creative during unstructured activities where there are fewer rules to restrict their freedoms. This makes the playground the ideal place to provide such opportunities and by installing the right motivational equipment, you can help spark the creative fire.
For younger children, there are plenty of pieces available. There are outdoor art and design boards for painting, drawing and mark making, the musical instruments mentioned above, and for the dramatically inclined, there are stages where children can rehearse and perform dances, plays and other types of performance to their peers. All these forms of equipment can motivate early years pupils to take part in activities that hone their creative thinking.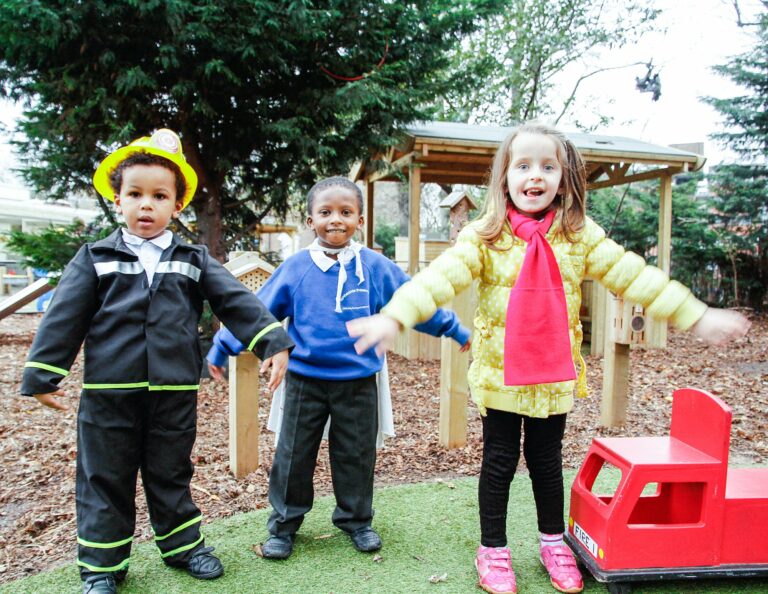 Being able to communicate well is crucial for helping children perform in the classroom and for their social development. It is vital, therefore, that there are plenty of opportunities to practice these skills from the earliest of nursery ages. Luckily, children of this age love to roleplay and this enables them to explore ways of communicating by thinking up different social scenarios and talking with a range of invented and real characters.
While early years pupils are naturally inclined to roleplay, they often require some form of inspiration, such as props and costumes, to get them started. With this in mind, here at ESP Play, we have put together a useful collection of outdoor roleplay equipment to encourage all children to get involved. You can choose from stages, shop kiosks, play huts, storytelling chairs, bridges, a carriage and even a wooden train.
The sooner a child learns numbers and letters and their corresponding sounds, the sooner they are able to develop skills in maths and English. Finding ways to encourage such learning can be a challenge in a nursery setting. However, there are ways you can use playground equipment so that the emphasis is on fun and the learning is done almost without thinking. For example, there are simple playground markings with numbers and letters on them. These can be used for hopscotch and other stepping or ball games. As they play, children will become naturally familiar with the letters and numbers without having to 'learn' them in a traditional way.
During EYFS, providers are required to help children develop a wide range of key skills. Doing so helps to remove many of the barriers they would face later on in their learning journey, making them better equipped to progress and attain. With the right outdoor equipment, many of these skills can be encouraged, developed and honed during play activities in the playground or outdoor area.