Thinking of upgrading your old, asphalt playground into something a little more convivial? If you are, there are plenty of advantages to be had from installing the right playground equipment. In this post, we'll take a look at 7 surprising benefits that installing playground equipment can bring.
One way to increase the number of parents who put their child's name down for your school is to provide facilities that their children will love and which shows you have their best interests at heart. And young kids, especially, enjoy playing on playground equipment. So, whilst parents will look at your Ofsted reports and your ranking in the local league tables, creating a great outdoor play space can be a deal breaker when it comes to them making a final decision.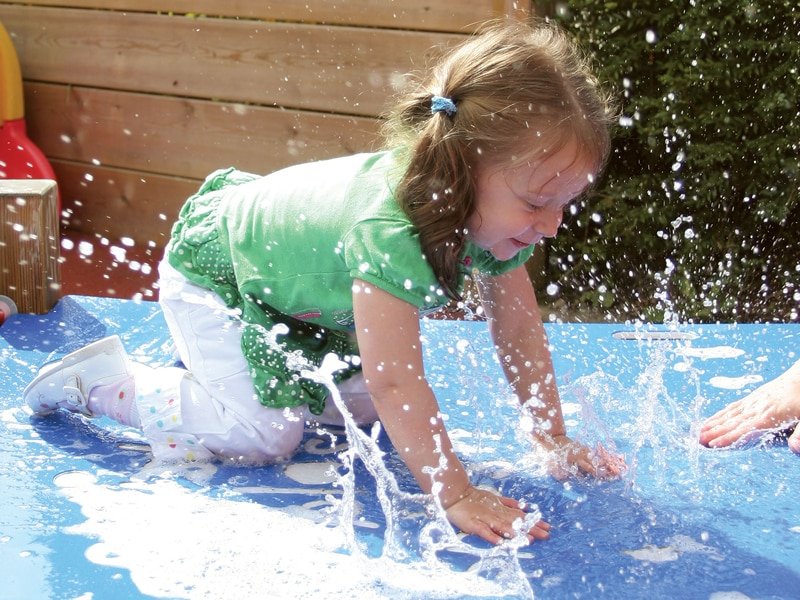 One of the biggest causes of poor behaviour is boredom and pupils left to their own devices in an empty schoolyard quickly run out of things to do. This is where silly behaviour can begin and escalate into something more serious. And children who are bored during breaks often take their frustrations back into the classroom where they can cause disruption.
Installing a range of playground equipment, whether its sports markings, creative and messy play or climbing equipment, is an easy way to keep children engaged during lunch and breaktimes and improve overall behaviour.
One often overlooked benefit of installing playground equipment is that it can generate income for the school. You might be used to leasing out your classrooms for night classes or your hall for the local Zumba group, but you can do the same with a well-equipped playground. If you have sports markings and equipment, for example, you can hire it out to football or netball clubs. If you have a range of fun equipment, playgroups may want to use it during the summer holidays. You can even hire it out to parents for children's parties at the weekends.
According to a study at Harvard Medical School, regular exercise changes the brain to improve memory and thinking skills. One of the benefits of outdoor play equipment is that it encourages children to take regular exercise, whether that's a sporting activity, roleplay or challenging themselves on a trim trail. Daily participation in these activities, therefore, can have a direct effect on their ability to learn and their progress.
In addition, outdoor play helps children develop a range of essential learning skills, such as resilience, collaboration and concentration, all of which can be transferred to the classroom.
While its no surprise that getting kids active can improve their physical health, what many people don't realise is that it can have a very positive impact on mental health, too. According to Public Health England, 695,000 5 to 16 year olds have a clinically significant mental illness. That staggering number means virtually every school in the country will have children who are dealing a mental health issue.
Regular physical activity can have a positive impact on a range of mental health problems, particularly depression and anxiety. By installing playground equipment that motivates these students to join in, you'll be helping to increase their endorphin levels and reduce stress. Even if you only manage to get them into natural light, you'll still be raising their vitamin D levels which can improve their mood.
6. Get Healthy School Status
One of the key requirements for gaining the Healthy School Status award is that pupils are provided with a range of opportunities to be physically active. With schools under so much pressure to perform academically, it can be difficult to commit any more than the minimum curriculum time to PE or other physical activity.
Providing stimulating outdoor equipment that encourages pupils to participate in physical activity ensures that non-curriculum time can be put to valuable use. Installing a range of different equipment that appeals to all pupils will show that you are being inclusive too. This can be a real asset when it comes to the Healthy School assessment.
Not all children feel comfortable in noisy and busy school playgrounds and there are some that, for physical reasons, cannot participate in the usual activities that children get up to. For these children, free time can be an isolating and daunting experience.
With the right playground equipment, however, you can cater much better for these children's needs. For example, it is possible to install play towers with wheelchair access or create quiet outside areas with stimulating sensory equipment that are shielded from the hustle and bustle. There is a whole range of SEN equipment available.
Most schools tend to see the obvious benefits of installing playground equipment, i.e., giving pupils something enjoyable to do during breaktimes and encouraging physical activity. However, as you can see from the points raised in this article, installing outdoor play equipment can bring many unexpected benefits to your school as well.