School playgrounds can take a bit of a battering during the winter. The effects of freezing temperatures, ice, snow, wind and rain all take their toll: eroding surfaces, splintering wood and rusting metal. So, if your playground is looking a little worse for wear as we near the end of winter, here are six tips to help rejuvenate it.
Lawns, sports fields and grassed playing areas can suffer badly during the winter months. Heavy snow and rainfall make the surface very soft which can cause high traffic areas to become little more than quagmires. Elsewhere, the moist conditions make it easy for moss to invade, killing off the grass and causing bare patches to appear once summer comes. Damp is also a great breeding environment for fungus, some of which may be hazardous to young children.
The onset of spring is the ideal time to start tending to your grassed areas. Give them a trim, rake thoroughly to remove moss and reseed where necessary. While pesticides can be used on domestic gardens to remove weeds, moss and fungus, they may be harmful to children and so are not generally recommended for schools.
You can help prevent erosion and the spread of moss by covering the area with a layer of protective grass matting. For sports fields and other areas, you could also consider artificial grass which would require far less maintenance over the long term and ensure you had an all-weather surface which was constantly available.
2. Repair your hard services
Anyone who has seen the constant news coverage about Britain's pothole problems will know that winter can have a devastating effect on tarmac and asphalt. When moisture that seeps into tiny cracks freezes, it expands and begins to break up the surface. Over time, this process accelerates and is made far worse if the surface is being eroded by heavy use. It doesn't take long before your playground gets potholes or patches which have been worn away. Left unattended, these can spread and increase the cost of repair. More importantly, they become trip hazards that can lead unsuspecting children (and adults) to injure themselves.
Once the threat of frosty mornings and snowfall subsides, it is time to take a look at repairing your surfaces. Carrying out a repair to a small area now can save you the cost of having to do a much larger one if the damage is left unattended.
If your surfaces are in a poor state of repair and need more substantial work, it may be the time to consider a different form of surface altogether. If you need a robust, hard surface, consider resin bound gravel. This self-draining, low-maintenance surfacing is more attractive and longer lasting than tarmac or asphalt and is available in a range of colours. Another very popular choice is wetpour surfacing which has a soft padded feel and is ideal for younger children or for areas where pupils may get bumps or scrapes.
3. Get your playgrounds in bloom
The onset of spring is the perfect time to turn drab school grounds into a garden of delights. Snowdrops and croci arrive towards the end of February and are followed in close pursuit by daffodils, tulips and bluebells. Come May, we'll see the apple and cherry blossom on the trees before the burst of colour that heralds the summer months.
If you have flowerbeds at school, now's the time to start thinking of how to bring them to life and getting them ready for planting. If you're short on space, don't worry, there are lots of alternative options. Wooden planters and trellises are ideal for bringing a little colour right into the heart of your playground.
4. Look after local wildlife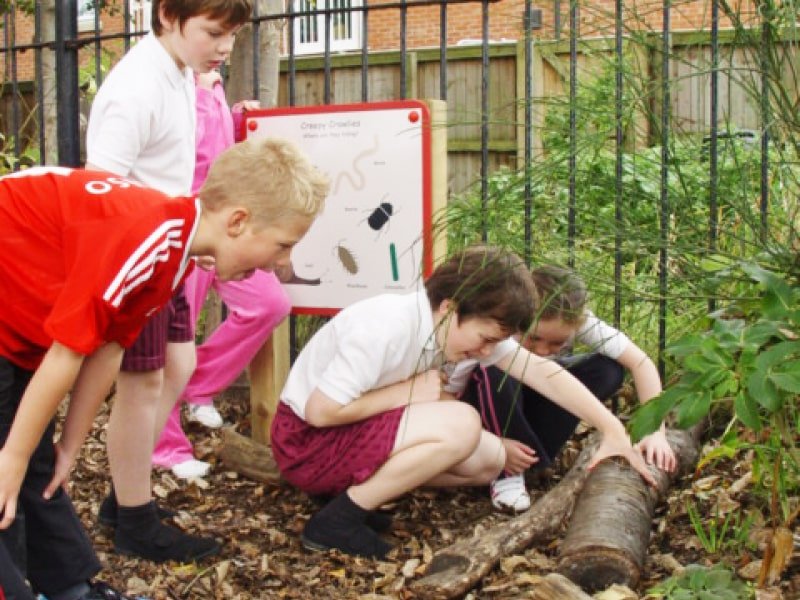 It's not only the plant life which can benefit when schools take an active interest in nature, the animal life can too. After a hungry winter, many animals will be on the search for food while others take advantage of the warmer weather to look for new homes or start breeding.
You can help out by creating a little nature reserve in a quiet area of the school grounds and installing nature equipment like bird tables, bug houses and butterfly boxes. The additional benefit is that children can use these areas to study the wildlife. Indeed, there are even specially designed information signs to help them identify species and investigation tables available.
5. Have your playground equipment inspected
Lots of schools now have play equipment installed and spring is the perfect time to get it inspected. Playground equipment will only stay safe if it is properly maintained so, after a harsh winter, there is no better time to have it tested by an authorised inspector. Doing this not only helps ensure your equipment is safe for the children to play on; it also helps improve the longevity of the equipment itself, as minor remedial repairs can prevent more expensive work being needed further down the line.
6. Replace outdated equipment
All equipment will eventually come to the end of its working life and spring is a good time to replace any old equipment with something new that can get plenty of use during the warmer seasons. If you have an inspection, this may point you in the direction of which pieces need replacing, though you may also find there are some pieces that are perhaps less popular with your pupils. Luckily, there is a wide range of playground equipment being developed all the time, as you can see from the broad selection we have on offer here at ESP Play.
Once the last frost has thawed, it is time for schools to turn their attention to the state of their playgrounds and outdoor spaces. Looking after the grassed areas, repairing hard surfaces and creating habitats for the flora and fauna are all ways to rejuvenate your grounds. At the same time, it is vital that you have your equipment inspected and that, if there's the need or the desire, you replace some of your older pieces with something new.