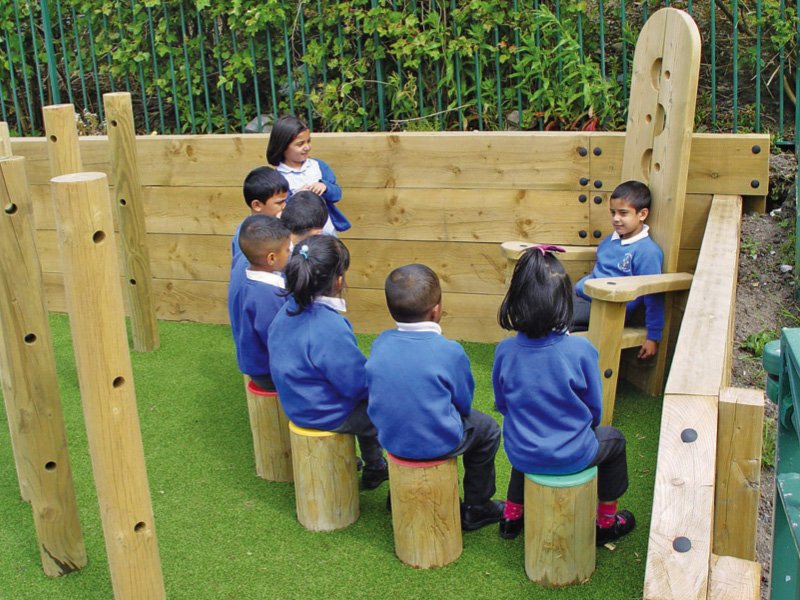 While traditional wooden benches and picnic tables will always have a role to play in furnishing a school playground, today they are joined by a growing collection of other playground furniture that provides a range of practical uses for a variety of different purposes. Here, we'll take a look at some of the more ingenious ones available.
1. Wheelchair accessible picnic tables
Traditional picnic tables aren't particularly practical for wheelchair users. Indeed, they can be seen as a subtle form of social exclusion. Though someone using a wheelchair can position themselves at the end of the table where there are no seats to get in the way, the support bar that holds the legs of the table together prevents them from getting close enough to use the tabletop like the rest of their friends. To use it at all they need to be able to lean forward, which might be impossible for some children and even for those that can, it's not user-friendly.
A wheelchair-accessible picnic table simply has one of the benches removed. Doing this allows the wheelchair user to get as close to the surface as everyone else – helping them feel part of any conversation and use the tabletop to rest their elbows, put their lunch boxes on or read a book. It's a practical solution and, importantly, makes your playground seating inclusive.
2. Playground amphitheatres
If your circle times are often plagued by soggy bottoms from children having to sit on damp soil, the playground amphitheatre is your ideal solution. Made from sturdy logs and available in one, two and three-tier sizes, the largest able to seat up to 30 children, they provide comfortable circular seating ideal for group discussions, drama, story times and any other activity you could use them for. What's more, their attractive shape and tiers are a natural draw for pupils who just love to use them to chat with friends during breaktimes.
Great for both learning and play, these are picnic style tables that have been transformed into sit down easels that children can use for a variety of artistic pursuits. There are three different types to choose from: a drywipe whiteboard, chalkboard and a magnetic board, with the boards raised at a slant to face the child. All easel tables are double-sided so pairs of children can sit together on either side, working individually or collaboratively in their chosen medium.
4. Story telling chair and mushroom seats
A story telling chair surrounded by mushroom seats creates the ideal storytelling circle to get young children engrossed in the magical pleasures of a good literary adventure. The high backed wooden chair with its rustic arms and half-moon and star design makes a perfect centrepiece to draw children's attention, while the yellow mushroom-shaped seats with their red spots are a fun and inviting way to sit and enjoy the story. Made from moulded multi-coloured rubber crumbs, they are safe and comfortable and come in two different sizes.
Want to give your children somewhere to sit with a touch of nature? Planter seating units provide both. Made from wood, they provide a comfortable bench for children to sit on but instead of being supported by legs, the benches rest on sturdy planters in which you can grow flowers, shrubs or climbers. Ideal for placing in green areas of your playground, or indeed, to help create a green area if you don't have one, they provide a practical place to sit with all the benefits of mother nature.  They come in small and large sizes and there are even corner versions available.
If you have trees in your play area, you could also consider a hexagonal tree bench.  Designed to go around the entire trunk of the tree so that the children can sit back and lean on it, they offer a quiet escape from the busier parts of the playground while also helping to keep children sheltered from the hot sun or light showers.
6. Crooked benches and tables
Who needs nice straight benches or picnic table when you can find a gnarly crooked one to sit on? We know which one young children would prefer. Purposely designed to look crooked, they are, of course, extremely sturdy and safe to use but with added fun built-in. There are benches of different sizes, a picnic table and two special versions, the crooked pine tree bench and crooked compass tree seat, that have a tall wooden pine tree-shaped post as their centrepiece. If you're looking to create a playground with a sense of magic and wonder, these are the perfect seating solutions.
With a little bit of inventiveness, the playground furniture of today provides some unique improvements on the standard pieces you find everywhere. They make playgrounds more inclusive, provide greater opportunities for play and creativity and make the playground more enjoyable and inviting for everyone.
For more information about all these pieces of playground furniture, visit our Seating page.